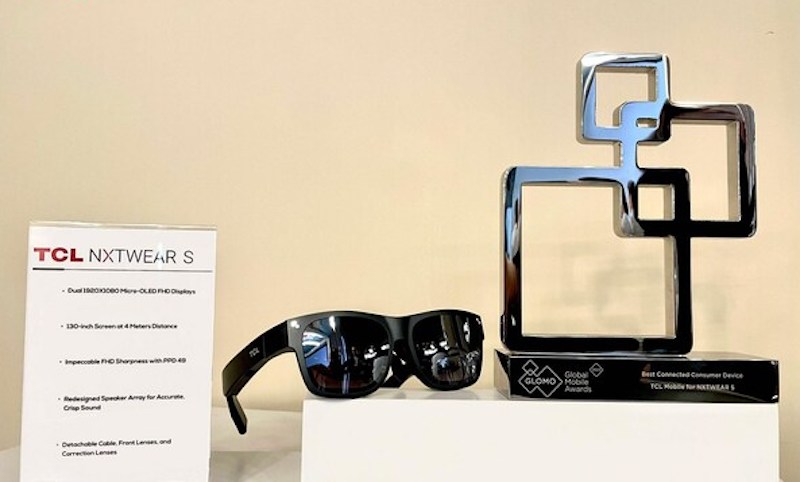 TCL, one of the world's leading consumer electronics brands, is proud to announce that its TCL NXTWEAR S XR smart glasses have won the Best Connected Consumer Device Award at MWC's Global Mobile Awards (GLOMO) 2023.
Recognizing products that offer an exceptional user experience through connectivity and integration with other devices and services, the award celebrates achievements in hardware development that advance the mobile sector.
"The GLOMO Best Connected Consumer Device award confirms NXTWEAR S's position as a game-changer in the XR entertainment space and is testament to TCL's commitment to display screen innovation in all forms and sizes," said Stefan Streit, chief marketing officer for TCL Communication. "We will continue to push the boundaries of what is possible in AR and XR experiences with devices that combine cutting edge features, style and ease of use."
TCL NXTWEAR S offers an expansive viewing environment, equivalent to watching a 130-inch screen four meters away, with dual 1080p Micro OLED displays that provide a private, high-quality screening space. The sharp FHD image is paired with crisp, optimized audio that can be enjoyed through dual speakers or by connecting headphones, with a unique "whisper mode" harnessing advanced acoustic phase cancellation technique to prevent sound leakage, perfect for turning lunch breaks, the daily commute or a long haul flight into an immersive adventure.
NXTWEAR S is designed with comfort, ease of use and style in mind. Weighing around 82g [1]and featuring adjustable nose pads and magnetic pogo-pin connector, the glasses free users' hands, making journeys more comfortable.
TCL NXTWEAR S is compatible with over 100 Android and Windows devices that support DP with a USB-C port. iOS devices are compatible with an adapter. The TCL NXTWEAR S is available now in select markets worldwide.
WATCH: TECHSABADO and 'TODAY IS TUESDAY' LIVESTREAM on YOUTUBE