SOCIAL MEDIA | #ThisHappened 2018: Pinoy fandom rules on Twitter
When it comes to microblogging social media site Twitter, entertainment still the most talked about in the Philippines.
MANILA, PHILIPPINES – Whatever happens, it happens on Twitter. Last year, Philippines' Twitter timeline was ruled by the entertainment industry. As 2018 bids farewell, Filipinos have proven that Twitter is the go-to platform to track #WhatsHappening in the Pinoy entertainment scene, as it dominated the conversation this year once again.
This 2018, entertainment remained to be the biggest conversation driver among Pinoy users. It was a year top billed by local and international talents from #BTS and #EXO to #MaineMendoza and #Mayward. Not only did Filipino teleseryes like #Bagani and movies like #TheHowsOfUs rock the screens, it also ruled the Twitterverse as fandoms all over the country raved about their idols on the platform.
Here are Twitter's lists of the hashtags, accounts and topics that reigned on the platform in 2018:
Top hashtags
Over the years, Filipinos uses hashtags to stay updated on various topics which they are most passionate of. For this year, the Pinoy K-Pop fans ruled over as they unite all over the world to keep updated on their favorite idols. Here are the Top 10 hashtags in the Philippines in 2018: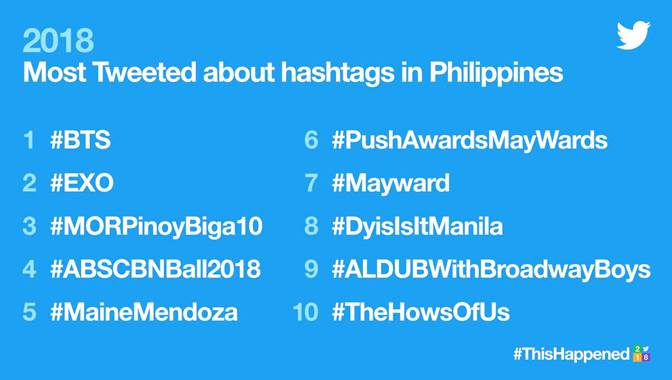 1. #BTS — Filipino fans and supporters of the Korean boy band, Bangtan Boys (@BTS_twt) dominated this years' top hashtag. BTS fans continue to show their love for their idols across the country through the platform. Looking back, Filipino fans rooted for them at the Kids' Choice Awards, which contributed to the band's success in winning the orange blimp for Favorite Global Music Star.
2. #EXO — The K-Pop scene is truly strong in the Philippines. Filipino fans didn't fail the band as it took the spot on this year's top hashtag as they kept Twitter alight of their support for their idols. 2018 is a memorable year for PHIXO-Ls as they have witnessed EXO's (@weareoneEXO) comeback through a concert in the country, EXO PLANET #4 last April 28, 2018. Fans expressed their warm support for the band at the Mall of Asia Arena and on the Twitter platform.
3. #MORPinoyBiga10 — My Only Radio or MOR 101.9 For Life (@mor1019) has been known on supporting Original Pilipino Music. As such, every weekend they do a weekly round up on the most requested Pinoy music. Fans gathered on Twitter using the #MORPinoyBiga10 to Tweet in their requested song of their favor Pinoy artist.
4. #ABSCBNBall2018 — This first-ever #ABSCBNBall2018 has been one of the most awaited events of the network as this year's ball showcased the full roster of Kapamilya stars compared to the previous years' which was limited to the Star Magic artists. The charity ball generated 5.6 million Tweets from fans all over the Philippines and overseas.
5. #MaineMendoza — The reigning top female celebrity on Twitter, Maine Mendoza's (@mainedcm) constant success shows her fans' endearment for her. Twitter never gets dull with Maine fans Tweeting on their happiness and excitement seeing their idol blooms in her career.
6. #PushAwardsMayWards — One of the most anticipated awarding that recognizes today's Kapamilya top online influencers promoting positivity in the digital realm is now on its fourth year. Using #PushAwardsMayWards, MayWard fans show their eagerness to get their favorite love team to win at this year's #PushAwards2018.
7. #Mayward — Former PBB housemates and one of the most sought-after loveteams, MayMay Entrata (@maymayentrata07) and Edward Barber (@Barber_Edward_) continue to make a name both as a love team and individually as they take on several projects this year. Fans of #MayWard constantly share their kilig moments on Twitter.
8. #DyisIsItManila — This is another weekly round-up of MOR 101.9 for Life (@mor1019) wherein they play the top 10 most requested OPM song for the week. Fans were eager in supporting their favorite Pinoy artist. As of now, Maymay Entrata (@maymayentrata07) leads the top chart with her single "Bituin".
9. #ALDUBWithBroadwayBoys — Aldub has been consistently trending everyday. Without a doubt, fans continue to be very supportive of the phenomenal love team – Maine Mendoza (@mainedcm) and Alden Richards (@aldenrichards02), even though they have pursued individual projects. Last July 2018, Aldub fans were definitely awed with their musical number from a broadway musical, Grease, in the noontime show where their love team was born, Eat Bulaga (@EatBulaga).
10. #TheHowsOfUs — Top billed by the famous love team of their generation, Kathryn Bernardo (@bernardokath) and Daniel Padilla (@imdanielpadilla), the story revolves around a young couple's dream of growing old together as they as they dealt with the ups and downs of a long-term relationship. The movie was a blockbuster with KathNiel Fans sustaining the conversation on Twitter.
Most Tweeted about Filipino accounts
Filipinos love to stay informed as much as they love to talk about their favorites and latest gossips. No wonder why the Filipino favorite, Maine Mendoza (@mainedcm) clinched the highest place once again in the most Tweeted about Filipino account. For Maymay Entrata (@maymayentrata07), 2018 can be her banner year as she placed second in the list, cementing her status as one of the hottest personalities on Twitter.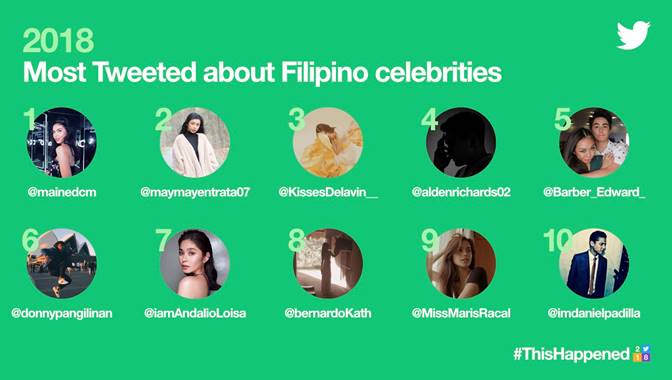 1. Maine Mendoza (@mainedcm) — As one half of the lauded loveteam #AlDub, Maine Mendoza continues to dominate Twitter as the Most Tweeted About account. Her fans use Twitter to Tweet their favorite pictures and TV appearances of the beloved celebrity. Maine Mendoza uses the platform to connect with her fans real-time and to share personal snapshots of her daily life.
2. Maymay Entrata (@maymayentrata07) — Maymay Entrata has made her mark on Twitter by using the platform to Tweet the most memorable #MayWard moments and to thank her fans for being so dedicated. The fans, in return, pay back the love by Tweeting their favorite pictures and videos of MayMay and her loveteam partner Edward Barber (@Barber_Edward). Her fans even gushed over her modeling career as she struts down runway at the latest Arab Fashion Week.
3. Kisses Delavin (@KissesDelavin__) — Kisses Delavin, another celebrity well-loved by the Filipinos, shows her quirky personality on Twitter by Tweeting her favorite reaction gifs and Tweets her fans can relate to. She uses Twitter to drive conversation among her fans.
4. Alden Richards (@aldenrichards02) — Alden Richards uses Twitter to connect with his fans about his show Victor Magtanggol, his daily life, and personal life lessons he deems valuable. Fans love his genuine spirit on the platform and Tweet him frequently because of it.
5. Edward Barber (@Barber_Edward_) — Edward uses Twitter to update his fans about latest television projects and sponsorships. He uses Twitter to be a source of inspiration for his fans, Tweeting his favorite quotes with accompanying images. Filipinos love relating on anything and everything — especially if it's about their favorite celebrity.
6. Donny Pangilinan (@donnypangilinan) — Donny makes fans happy by constantly replying, quoting, and Retweeting Tweets that express the fans' dedication to their favorite celebrity, particularly with Donny.
7. Loisa Andalio (@iamAndalioLoisa) — Loisa's fans love to follow her on Twitter for her pictures and her latest updates on acting projects like #MMKBuhaySementeryo. Fans love Tweeting on their reactions to her latest TV roles and of her admirable performances.
8. Kathryn Bernardo (@bernardokath) — Kathryn Bernardo is adored by Filipino fans on Twitter because of her update Tweets about her life, her travels, collaborations, and her pictures with love team Daniel Padilla (@iamdanielpadilla). Kathryn is lauded on Twitter for her constant presence — letting fans know that she recognizes their support and is ready to share her life with them.
9. Maris Racal (@MissMarisRacal) — Actress Maris Racal keeps fans engaged by posting videos of herself singing. Her fans love to witness her personality and talent on Twitter by liking and Retweeting almost all of her Tweets. From her random musings to more personal Tweets about being a woman, Maris is sure to be a recognized presence on the platform.
10. Daniel Padilla (@imdanielpadilla) — The "Teen King" made a solid fanbase on Twitter who he keeps updated with, on his latest happenings, upcoming movies,TV shows and latest updates on the KathNiel love team.
Most Followed Filipino accounts
The most followed Filipino Twitter accounts for this year didn't have much difference from last year's. It's Showtime host and comedian Vice Ganda (@vicegandako) still holds the top spot for this year. Showbiz personalities Bianca Gonzalez-Intal (@iamsuperbianca) and Daniel Padilla (@imdanielpadilla), interchanged their spots as the "Teen King" gained almost a million followers compared to last year's. Host and comedian Vhong Navarro (@vhongx44) gained more followers, allowing him this first chance to join the top 10 list.
The Top tweets
People from all walks of life all over the world come to Twitter every day to have conversations and to find out and catch up on what's happening. These most Retweeted Tweets prove that even non-celebrities can get their Tweets viral.
The Tweet from Gian Carlo (@_giaaancarlo) got over 102,872 Retweets as other Twitter users relate to his sentiments about the hardest part of the school semester and the chances or options students are willing to take to pass their classes.
Another Tweet with a call to Retweet to get a new iPhone is from Bryan Riel (@bryan_riel95), which placed second with 87,564 Retweets.
The Tweet from Depression Notes (@depressionnote) earned the third spot with its Tweet sharing the suicide hotline in the country to promote mental health awareness. The Tweet gained 86,202 Retweets.
Whatever happened, in every corner of the world, and on any topic imaginable, it happened on Twitter. Share your biggest stories, memories and conversations of 2018 today #ThisHappened.