HEALTH | Students mimic game app to help prevent kids from smoking
College students in Manila have found a new way to help prevent kids from smoking: by devising an improvised version of a popular smartphone game.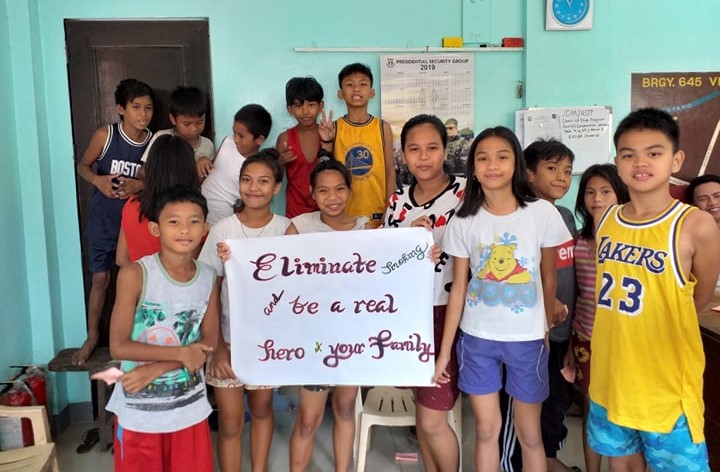 College students in Manila have found a new way to help prevent kids from smoking: by devising an improvised version of 4 Pics 1 Word, a popular smartphone game.
But instead of playing it on a handheld, students in La Consolacion College prepared a slideshow presentation on a laptop, mimicking the smartphone app that's been used by more than 220 million people, according to its developers.
On Saturday morning, students in a civics education class flashed several sets of four pictures each and asked the kids to guess which word linked them all.
Besides featuring unflattering photos of smoke and smog, the slides also showed blackened teeth, discolored lips, and damaged organs, just a few of the many dangerous and toxic effects of smoking.
Unlike the original game, the answers were far easier, keeping the kids entertained and allowing them to understand the message: that tobacco use is not only a waste of money but a dangerous habit as well.
The event was attended by some 20 kids, aged seven to 13 years old, all residents of a barangay in San Miguel, Manila and the 35 students enrolled in the NSTP (National Service Training Program) class, its organizer said.
The children also joined a game popularized by primetime television show, but this time around, the activity also promoted anti-smoking, said J. Karlo G. Manato, a student in the NSTP class who studies hotel and restaurant management at La Consolacion.
Shaira Micah Vere, the class president, also finalized the slideshow and took the lead in encouraging students to join the event.
Shortly before the program ended, the kids themselves came up with their own slogan, "Eliminate smoking and be a real hero to your family," Manato said, adding that the slogan was featured on posters the kids themselves made during the event.
"We wanted to keep the kids entertained and at the same time spread the message about the dangers of smoking," added Manato, who is also a member of the Pasig Team of the Rural Poor Institute for Land and Human Rights Services, Inc. (Rights Inc.), a network of farmers' groups involved in agrarian reform. The group has recently expanded its advocacy work to expose tobacco industry interference in government.
Health advocates, including Rights Inc., are awaiting the release of the Senate ways and means committee report on the proposed increase in tobacco tax. Senator Juan Edgardo "Sonny" M. Angara, who heads the panel, has already agreed in principle to raise the cigarette taxes.
"We hope Senator Angara does his best to pass the bill," said Cynthia Esquillo, who heads the anti-tobacco advocacy program at Rights Inc.