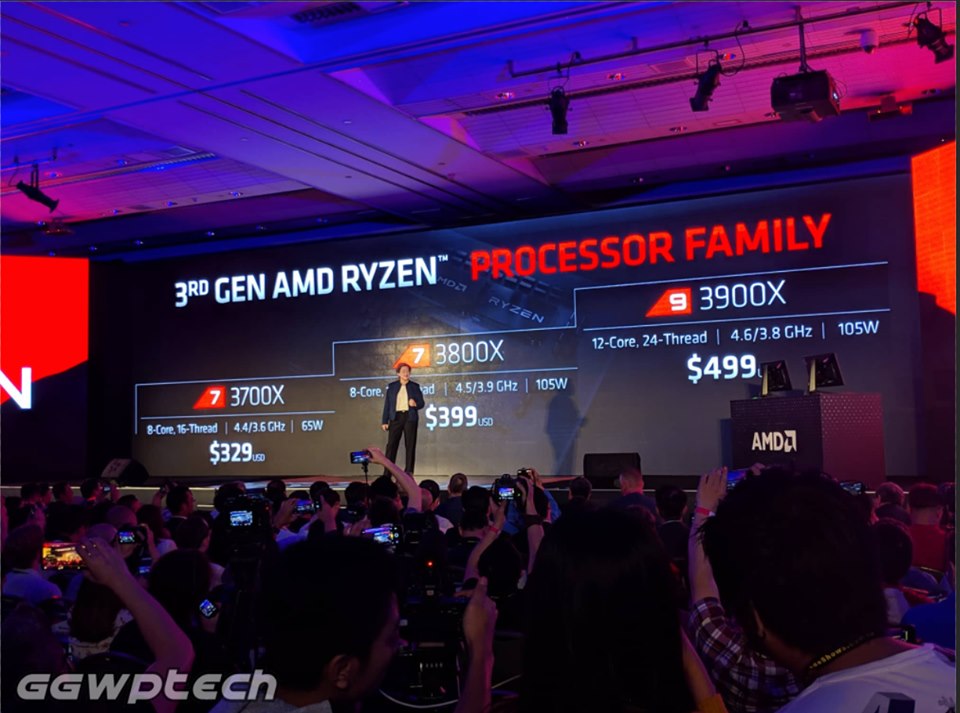 Tech Sabado is in Taipei right now doing an on-site coverage of COMPUTEX 2019. First thing on the agenda is the AMD CEO keynote which was held this morning.
As expected announcements from Dr. Lisa Su are the unveiling of new AMD Ryzen processors and Radeon Navi graphics cards among their industry updates. Emphasizing that they are making big bets on high-performance leadership: starting with their process technology.
Poised to give the best of what the industry has to offer, AMD is proud of their 7nm process which is made possible by the best in the semiconductor industry, TSMC. Next are their bet on their high performance cores: modern and capable as possible, the Zen 2 and Navi definitely the next big thing.
In the words of Dr. Su, they are "putting the best technology in the best silicon, in the best package, in the best system" through what they're calling the chiplet architecture which allows them to build these incredible set of products.
AMD Radeon Navi
It is already confirmed that Sony's PlayStation 5 is going to be equipped with AMD Radeon Navi graphics, but today, Dr. Lisa Su unveiled some details on what they have in store for the PC Gaming segment.
Navi is totally different from GCN: it is now built on the 7nm process RDNA architecture (Radeon DNA ) which is going to be the next-gen of Radeon gaming graphics architecture which will power PC Gaming, gaming consoles, ang cloud for years to come.
The RDNA architecture boasts improved efficiency and increased IPC and it will feature a multi-level cache hierarchy which will reduce latency between the memory and GPU core and it will have higher bandwidth and lower power consumption.
It was initially speculated that AMD will use the name RX 3080 for their new flagship graphics card and we couldn't be more wrong. Now officially called the AMD Radeon RX 5000 family of GPUs. 50 because they were launched at the 50th anniversary of the company.
The upcoming 7nm AMD Radeon RX 5700-series graphics cards will feature high-speed GDDR6 memory and support for the PCIe 4.0 interface.
During the keynote, Dr. Su showcased the power of RDNA and one of the new AMD Radeon RX 5700-series graphics cards in a head-to-head comparison with a RTX 2070 card running a Strange Brigade gameplay demo, beating the competition delivering an average of 100 FPS gaming.
The first SKU's of the RX 5700 series are expected to be available in July 2019. Learn more at the AMD E3 livestream event on June 10, 2019 at 3 pm PT.
3rd Generation AMD Ryzen
Continuing its path of PC leadership and industry firsts, AMD announced the 3rd Gen AMD Ryzen desktop processor, the most advanced desktop processor in the world with ground-breaking performance across gaming, productivity, and content creation applications.
Based on the new "Zen 2" core architecture with AMD chiplet design approach, 3rd-Gen AMD Ryzen desktop processors are expected to offer more performance-critical on-die cache than ever before to unleash elite gaming performance. Additionally, all 3rd-Gen Ryzen desktop processors are supported by the world's first PCIe 4.0 PC readiness for the most advanced motherboards, graphics, and storage technologies available, setting a new standard of performance and providing the ultimate consumer experience.
With the 3rd-Gen AMD Ryzen desktop processor family, AMD introduced a new category of Ryzen 9 desktop processor with the flagship 12 core/24 thread Ryzen 9 3900X. Pushing the high-performance envelope for socket AM4 by offering leadership performance1, the family is rounded out with 8 core Ryzen 7 models and 6 core Ryzen 5 models.
The new "Zen 2" core widely outperforms the historical generational performance improvement industry trend, up to 15% estimated instructions per clock (IPC) uplift over the predecessor "Zen" architecture. The "Zen 2" CPU core powering the next-generation AMD Ryzen and EPYC processors also includes significant design improvements including lager cache sizes and a redesigned floating point engine.
Ira James is an enthusiast who has his roots on PC hardware and gaming. His career as a tech journalist began after working in the PR industry for two years. He started GGWPTech to write PC hardware reviews, gaming, cyber security, and enterprise tech news. His works are also syndicated by other media publishers: Tech Sabado, and the Sunday and Business I.T. section of Manila Times.