TELECOM | RED Fiber expands reliable internet coverage in Mega Manila
Get ready for the Red Life with unparalleled high-speed fiber internet and dependable 24/7 customer service.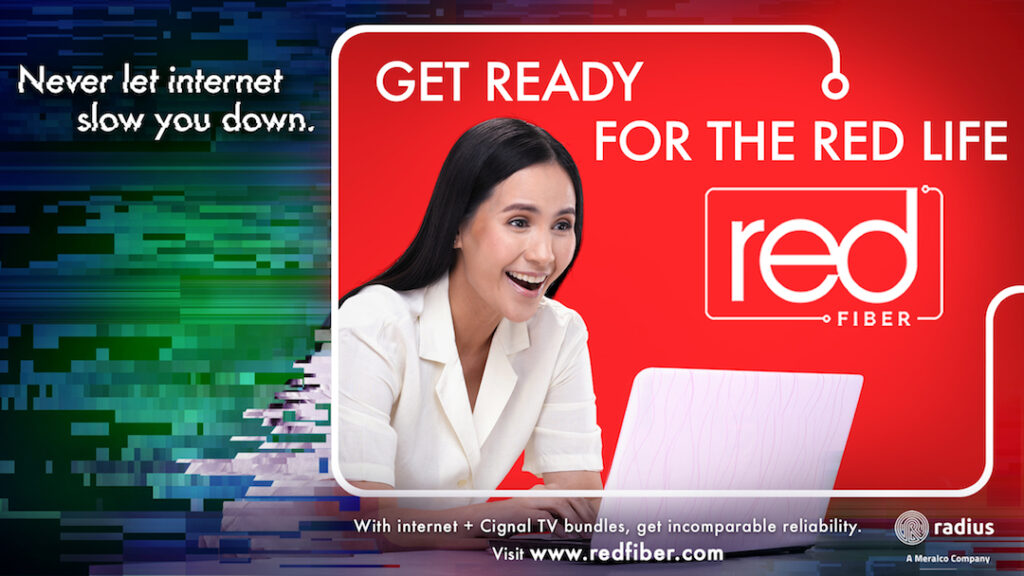 The Philippines's newest broadband service from Radius Telecoms, Inc. (Radius), RED Fiber, in partnership with Cignal TV, recently announced that it has expanded its fiber optic network in Mega Manila, Central Luzon, CALABARZON (Cavite, Laguna and Batangas), Clark and Cebu areas, providing more residential users with fast, stable, and reliable Internet service.
Running on Radius' 100% pure end-to-end fiber network, RED Fiber showcases the technological prowess of fiber optic by delivering high-speed internet and content. RED Fiber customers can decide between several packages that fit their needs and budget, with added bundles and an option for no lock-in arrangement for prospective subscribers.
With their choice of a suitable service package, RED households can opt for Internet Only Plans or Dual Play Plans which is their internet plus IPTV content provided by Cignal TV.
Radius is a 100% Meralco company, sharing a reputation for outstanding service and reliability known among generations of Filipinos.
"We understand how important it is for every household to have reliable and stable internet connection, especially in this fast-evolving digital era, said Quiel C. Delgado, Radius Telecoms, Inc. president & chief executive. "Today, we live in a global world where people's lives are more interconnected not only for leisure and entertainment, but moreso for business, education, and the crucial exchange of economic and political information that shape our daily lives."
RED Fiber guarantees consistent streaming experience and reduced network downtime compared to other providers. As a new industry player, it boasts of unparalleled 24/7 customer service and guaranteed customer satisfaction, with a 90-Day Internet Guarantee Program where new subscribers can discontinue their contract without a pre-termination fee.
"RED Fiber addresses the Filipino's need for fast, secure, reliable, and robust broadband internet connectivity," Delgado said. "We are able to deliver on this promise to vastly improve internet access in the Philippines through our full fiber network which already covers the whole franchise area of Meralco, Mega Manila and nearby provinces, as well as Clark and Cebu. And we plan to expand further in the Visayas and Mindanao regions. It is our commitment to bring this unparalleled internet experience to as many Filipinos as possible. We want them to experience the RED Life — a life of high-speed, stable, and reliable internet; a life with no lags, no interruptions, and no hassles. We have higher service reliability, which is the best in the country. Our commitment is to make the RED Life happen for them."
New customers can have their RED Fiber connection installed within three days upon application.