COMMUNITY | ChildHope scholars receive School-in-a-Bag, learning kits
Smart donated a School-in-a-Bag to ChildHope through MPL Cares, the CSR program of MPL.
PLDT wireless unit Smart Communications, Inc. (Smart) has teamed up with Mobile Legends: Bang Bang Professional League (MPL) in the Philippines to help scholars and street children beneficiaries of ChildHope Philippines Foundation, Inc. (ChildHope).
Smart donated a School-in-a-Bag to ChildHope through MPL Cares, the CSR program of MPL. This includes a laptop, ten (10) tablets with care pouches and 64GB expandable memory card, a Smart LTE Pocket WiFi with P500 load, and a 64GB USB preloaded with learning contents that these children can use in their learning sessions. Smart also turned over twenty (20) Learn Smart Kits, each one consisting of a mini-bag with a Smart LTE Pocket WiFi device and a 32GB USB preloaded with educational materials and videos for students and teachers.
"ChildHope believes that children's rights should be given equal weight and that striking the balance between education and leisure reflects responsibility and true empowerment," said Dr. Herbert Carpio, executive director at ChildHope. "This partnership with MPL Philippines, as well as the donations from Smart are concrete examples of institutions working together to support and uplift the welfare of these marginalized children, giving them a chance for a better future."
"This partnership with ChildHope is just a start for MPL Philippines and MPL Cares. We intend to give back to the community and enable youth to have a fruitful childhood, while having access to education," said Matt Jaron, head of MPL PH Business Development.
"Education is one of the biggest advocacies of Smart. Our goal is to use technology to bridge the digital divide and give learning communities access to inclusive, quality education," said Stephanie Orlino, assistant vice president for Community Relations at Smart. "That's why we at Smart are glad that besides being the official telco partner of MPL, we can also support ChildHope through the MPL Cares program for education. This initiative balances learning and recreation for the youth — while they are expressing their passions, they are also achieving their fullest potential."
These gadgets and learning materials will be part of ChildHope's KalyEskwela project, a DepEd-accredited Alternative Learning System (ALS) program that uses a mobile van with audiovisual equipment to conduct alternative education sessions and basic literacy and numeracy classes to street children and youth.
MPL Season 8 champions Blacklist International also gave inspiring advice to the scholars via Zoom.
"We're happy to say na dati rin kaming batang kalye na minsan ding nangarap, at natupad. Nakita ko yung video niyo kanina, na School-in-a-Bag, and napakapalad niyo na may ganyan kayo sa generation niyo," said Bonn "Bon Chan" Ricaplaza, coach of Blacklist. "I-take advantage natin ang mga pagkakataon na 'yan para matupad ang mga pangarap niyo. Marami sa inyo nagmo-Mobile Legends. Hindi masama maglaro, basta maging responsable lang tayo,"
Finals MVP Salic "Hadji" Imam added, "Kumain sa tamang oras!" reminding the children to balance health, education, and gaming.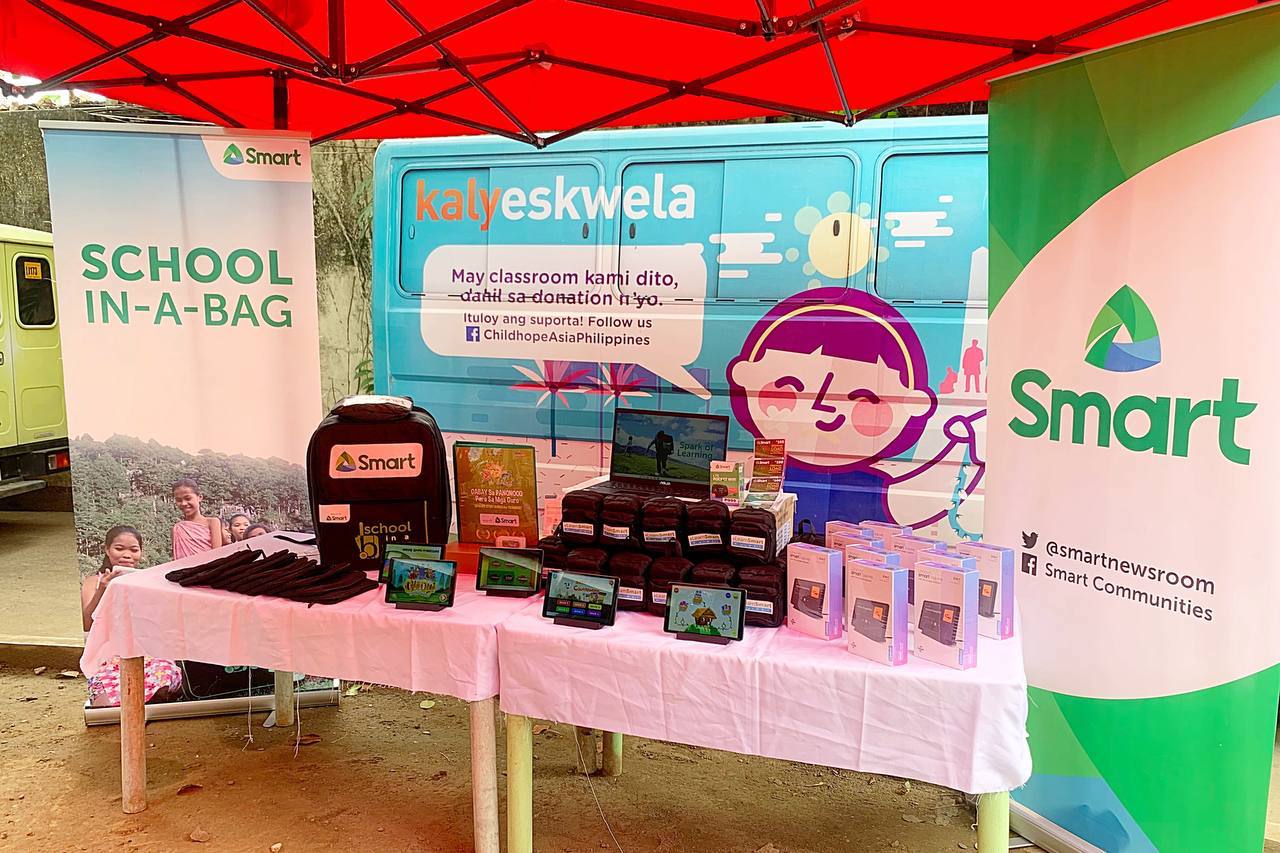 No learner left behind
The Smart School-in-a-Bag is part of Smart's flagship advocacy which aims to provide access to inclusive quality education in basic to tertiary levels, through Information and Communications Technology (ICT), content, pedagogy, and capacity building to ensure that there is #NoLearnerLeftBehind.
By the second half of 2021, Smart and its partners have deployed more than 300 SIABs nationwide, reaching more than 4,000 teachers and almost 90,000 students.
To help the Philippines attain the United Nations' 17 Sustainable Development Goals, with SDG #4: Quality Education as a key area, education continues to be the flagship CSR program of the PLDT group, with a strong emphasis on digital literacy.