TECH NEWS | Philippines Tops PornHub anew
Compared to the rest off the world, visitors from the Philippines are more likely to view the hentai category, more into romantic videos and more into cartoon.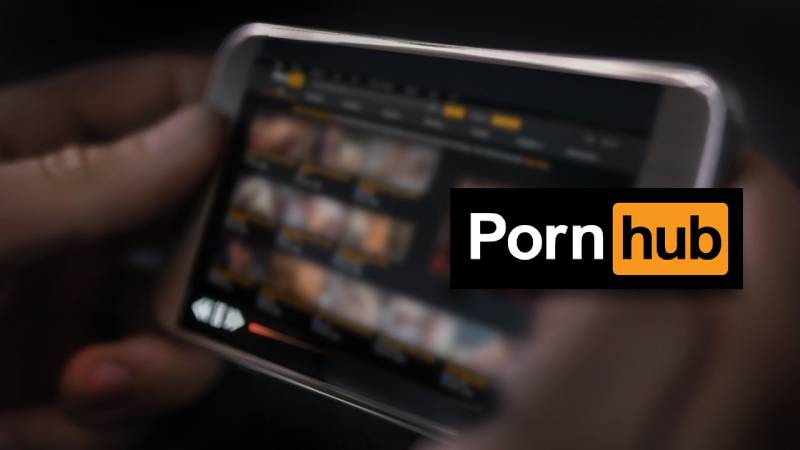 In Pornhub's 8th Year in Review, the internet's most popular internet hub for adult pornography has recently compiled the hottest trends, terms, searches and a recap of everything that happened on their site during 2021.
In one of the Yearly Review categories – spending most time on the porn site – the Philippines once again topped the list of the longest lasting countries at 11 minutes 31 seconds. Japan is the only Top 20 country with an increase in viewing time (+12 sec) making it the second longest lasting country at 10 minutes 3 seconds. The Philippines has always topped the list since 2014.
Nonetheless, 2021 saw Pornhub's average visit duration decreased by nearly half a minute to 9 minutes 55 seconds, according to their data research. In addition, Pornhub said: "as time on site can reflect many factors including the speed internet in some regions. Our usage trends show it's more likely that visitors are finding what they want much faster thanks to our handy search algorithm and well-curated category tags."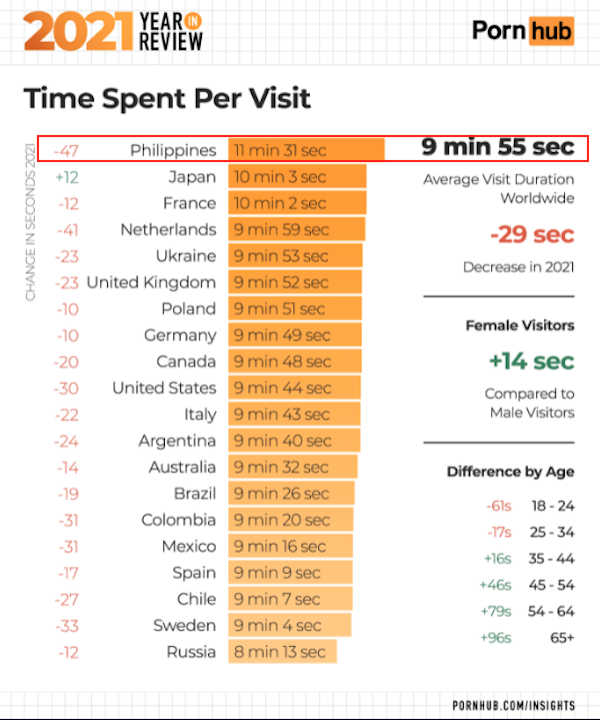 PH in Top 10
In terms of traffic on the porn site, the United States continued to be the country with the highest daily traffic to Pornhub, followed by the United Kingdom (+1), which moved ahead of Japan. France (+1), Italy (+2) and Mexico (+4) all had traffic increases which pushed them ahead of Canada (-3), Germany (-2) and the Philippines (-1). Chile (+5) and Colombia (+8) were new to our Top 20 Countries list in 2021.
Collectively the Top 20 countries represent 79% of Pornhub's daily traffic.
Top searches in PH
In the same yearly review, according to PornHub, the most searched term in the Philippines continued to be 'pinay', while several other terms appeared in the top 10 for the first time including 'korean' (+9), 'asian' (+23) and 'anime' (+12). 2021's trending searches include a +460% increase for 'threesome pinay', +345% for 'hentai anime' and +316% for 'Rule 34'. Compared to the rest off the world, visitors from the Philippines are +286% more likely to view the Hentai category, +134% more into Romantic videos and +111% more into Cartoon.
View the entire PornHub 2021 Year in Review here.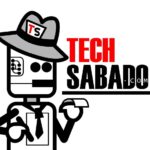 by TechSabado.com editors