TELECOM | PLDT brings fiber to Siargao, boosts Mindanao connectivity
PLDT has recently started its submarine cable laying activities in the islands of Socorro and Siargao, located in the Mindanao region.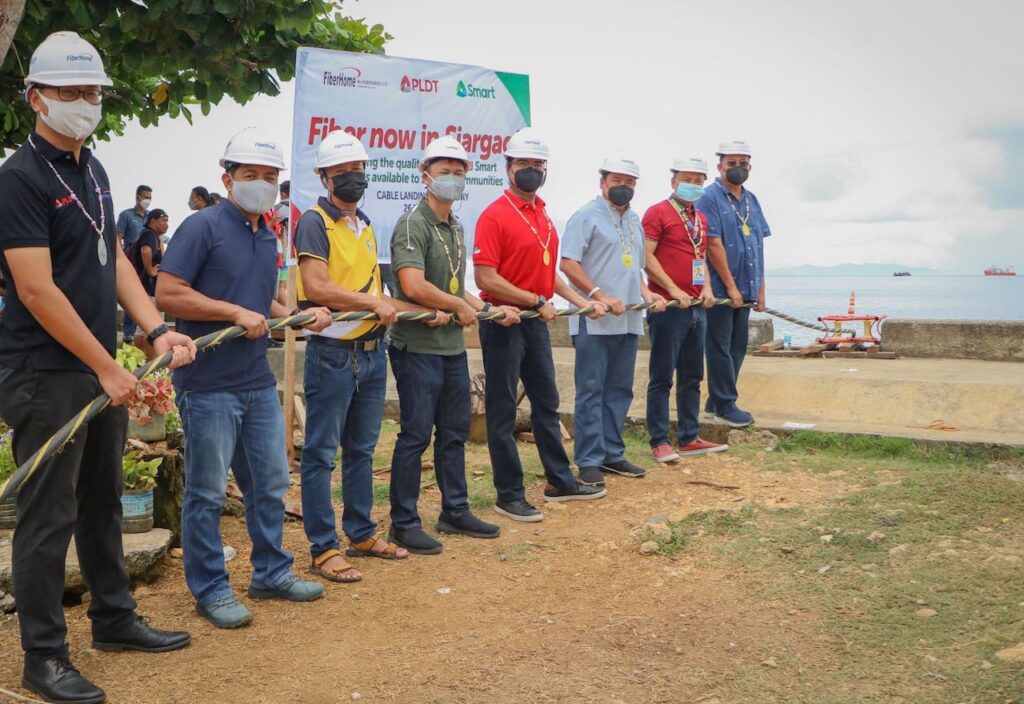 Residents and visitors of the popular tourist destination, Siargao Island, can look forward to better connectivity as leading integrated telco PLDT continues to strengthen and expand its domestic fiber optic network (DFON) around the country.
PLDT has recently started its submarine cable laying activities in the islands of Socorro and Siargao, located in the Mindanao region. Complementary inland fiber cable installations are also happening in the towns of Santa Monica and Del Carmen in Siargao Island, Surigao del Norte. Fiber cable deployments in other Siargao towns and the Dinagat Islands will soon follow.
To mark this milestone, a cable landing ceremony was held at the municipality of Santa Monica. In attendance were officials from the local government of Surigao del Norte led by Santa Monica Mayor Fernando Dolar; PLDT and Smart executives led by Deputy Network Head Eric Santiago, Group Head/FVP for Network Planning & Engineering Patrick Belicena, and Head/VP for Transport Planning & Engineering Meinardo Opiana, and representatives from FiberHome led by FiberHome COO Felix Deng.
Fiber presence in Siargao Island will eventually enable PLDT to offer fiber-to-the-home services in the island, supporting the internet needs of homes, resorts, and businesses. This will also enhance PLDT's wireless arm Smart Communications, Inc. (Smart)'s mobile network services in the island, particularly for LTE and 5G.
Fiber connectivity is also seen to boost the island's bid to support other industries, such as IT and business process outsourcing (BPOs), as the island continues to recover from the effects of Super Typhoon Odette late last year.
"On behalf of the people of Siargao, we would like to extend our heartfelt thanks to PLDT, Smart and Fiberhome for making this happen. This will boost economic activity and provide more livelihood opportunities for our people. We assure you that you will have our full support," said Mayor Dolar during the ceremony.
"The deployment of fiber in the island of Siargao is part of our long-standing commitment to connect our country's islands and provide quality connectivity to more Filipinos, as data and connectivity become increasingly integral to our post-pandemic next normal," said Mario G. Tamayo, head of Technology at PLDT. "In addition to ensuring that our countrymen have access to fast and reliable home and mobile services powered by fiber connectivity to enable hybrid workplaces, remote learning and e-commerce even in islands like Siargao, this project will also enhance the resiliency of our network by providing alternate routes for data traffic, making sure our customers are always connected."
This project is part of the PLDT Group's sustained investments in their network. Network-related initiatives made up the bulk of the ₱89 billion spent for 2021. This brings total capex spent over the last 10 years to ₱518.5 billion. Capex guidance for 2022 is P85 billion.
As of end-March 2022, PLDT's fiber infrastructure was at 803,000 kilometers. This also supports Smart's mobile network, which has 76,600 total base stations nationwide, supporting its 3G, 4G/LTE and 5G customers from Batanes to Tawi-Tawi. This includes around 7,300 5G base stations.