GADGETS | D-Link's enhanced Wi-Fi gigabit routers, security cameras deliver improved connectivity, security
D-Link matches the growing demand for high-speed connectivity and improved home security with enhanced Wi-Fi gigabit routers and security cameras.
MANILA, PHILIPPINES -– D-Link, one of the world's biggest suppliers of home networking products, matches the growing demand for high-speed connectivity and improved home security with enhanced Wi-Fi gigabit routers and security cameras.
The DIR-878 AC1900 MU-MIMO and DIR-882 AC2600 MU-MIMO Wi-Fi Gigabit routers and DCS-8000LH and DCS-8100LH. security cameras deliver not only faster wireless internet connections and greater network security but also state-of-the-art protection. This means seamless and high-definition connectivity and streaming from making online calls and playing multiplayer games to surfing content-rich websites and launching multimedia applications.
Upgrade to seamless Internet connectivity
The DIR-878 AC1900 MU-MIMO provides a convenient and flexible networking experience for small office/home office (SOHO) environments by combining high-speed 802.11ac Wi-Fi with dual-band technology and Gigabit Ethernet ports. Its SOHO-class advanced security features, together with the increased range and reliability of wireless AC technology, provide a protected network for devices at home or office and help keep data safe from unwanted network intruders.
With a 3×3 Multiple User- Multiple Input Multiple Output (MU-MIMO) antenna configuration, the DIR-878 offers better data rates, fewer dead spots, more coverage and increased reliability to bring Wi-Fi speeds up to 1,900Mbps. Moreover, the built-in Quality of Service (QoS) engine allows better traffic control through prioritization of application programs. This ensures preferred applications receive optimal bandwidth.
The DIR-882 AC2600 MU-MIMO, which is powered by a dual-core processor, is designed for high-bandwidth applications such as HD, 4K and 3D video. Depending on the ISP on the WAN side, the DIR-882 has a Gigabit WAN port to support faster Internet connection speeds of up to 1000Mbps per 1 Gigabit for a seamless viewing experience.
On top of the dual-band Wi-Fi, the DIR-882 boasts an improved range, backward compatibility and a state-of-the-art QoS engine. Its 4×4 MU-MIMO antenna configuration allows concurrent communication with multiple compatible devices, thus providing users with faster speeds for smoother video streaming and online gaming.
Both the DIR-878 and DIR-882 support the latest 802.11ac Wave II technology, which has 10/100/1000 Gigabit Ethernet LAN ports for Network Attached Storage (NAS), media centers and gaming consoles. With the advanced algorithms from D-Link's Smart Connect Technology, both units automatically distribute devices to the most optimal wireless network for the best connection and stability.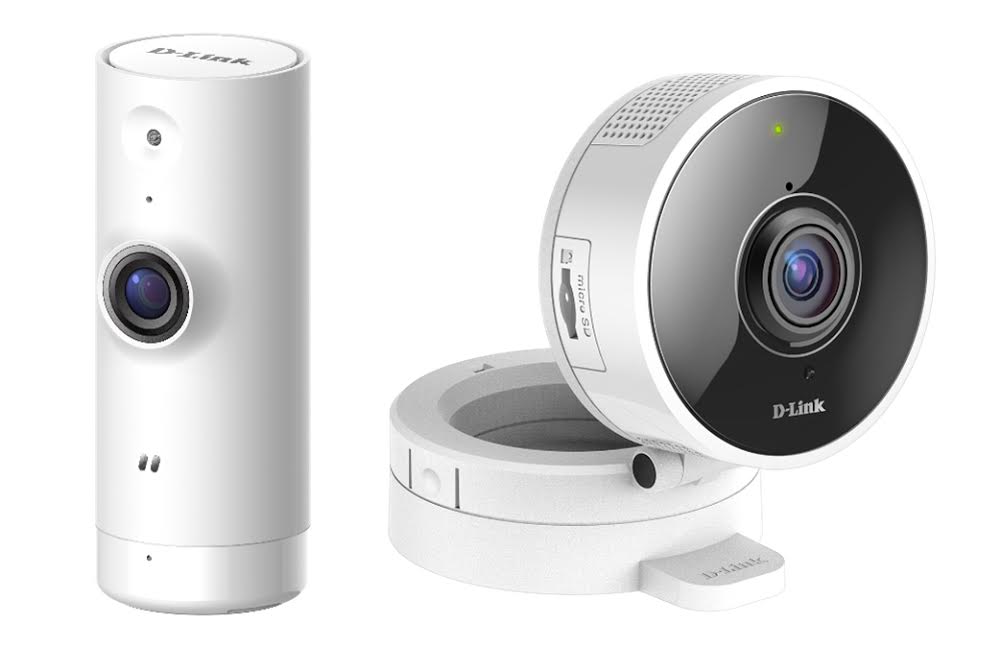 Experience advanced home security
The DCS-8000LH security camera delivers 720p HD resolution and a 120-degree viewing angle for wider coverage. Its built-in night vision, motion and sound detection, Bluetooth setup and IR LEDs promise day and night security for home or office. It also easily connects to a wireless network for installation anywhere with Wi-Fi coverage.
The DCS-8100LH enables an even more flexible viewing experience at 720p HD resolution with its 180-degree ultra-wide viewing angle. It can pivot, tilt and rotate to provide the best view of SOHOs. It also features Wireless Signal Strength LED that locates the best wireless location for smooth video streaming, motion detection and built-in infrared LEDs with up to 5m night-time viewing. The DCS-8100LH's microphone can pick up and capture loud sounds that will instantly send notifications to the user, and allows seamless two-way communication.
Both the DSC-8000LH and DCS-8100LH units can be accessed through the mydlink Lite app, which shows notifications, saves snapshots and manages the camera remotely.
Local availability
The DIR-878 AC1900 MU-MIMO and DIR-882 AC2600 MU-MIMO Wi-Fi Gigabit Routers are available at all D-Link resellers and distribution partners for a SRP of P8,775 and P11,490, respectively.
The DCS-8000LH and DCS-8100LH security cameras are priced at P3,350 and P9,340, respectively.