TELECOM | Bangsamoro schools embrace digital learning tools, educational apps from Smart
Over 22 schools in the Bangsamoro region are reaping the benefits of digital learning after being recipients of Smart Communications' (Smart) School-in-a-Bag packages.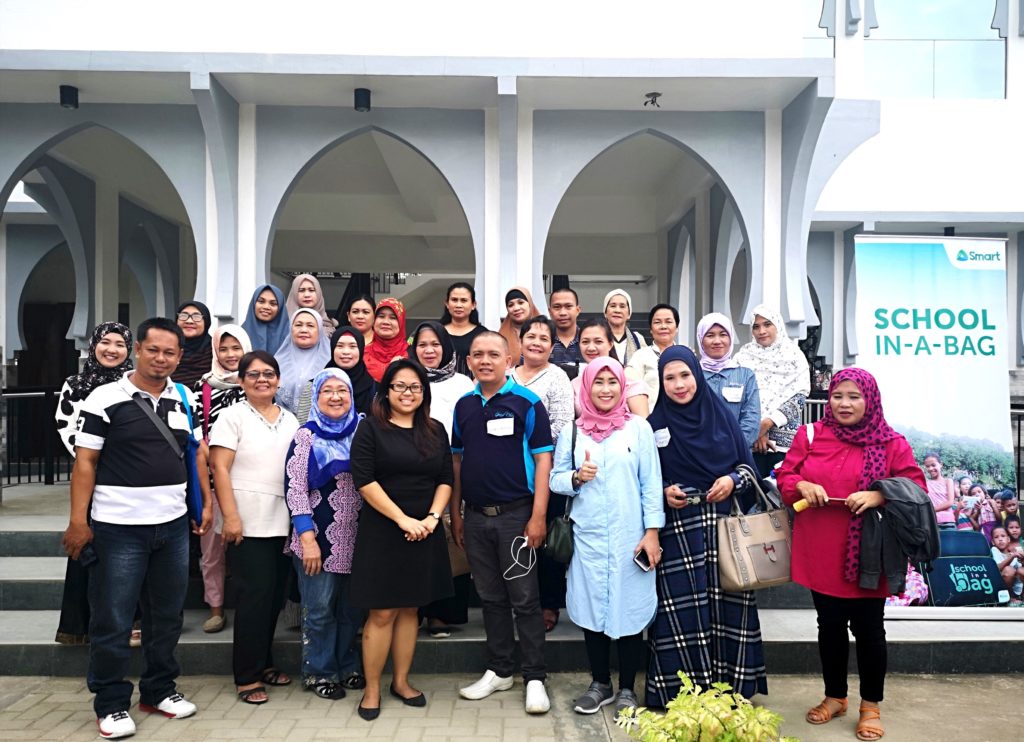 Over 22 schools in the Bangsamoro region are reaping the benefits of digital learning after being recipients of Smart Communications' (Smart) School-in-a-Bag packages.
For grade school teacher AlaminaBao, it is uncommon for children in their far-flung community of Lanaodel Sur to be exposed to technology. Most of her students in RagayanElementary School are not even familiar with watching television, as their parents are constantly on the lookout for threats of armed conflict in their area.
After receiving School-in-a-Bag digital portable classrooms in 2018, the kits' modern learning tools and educational content have allowed Bao and her pupils to connect with technology and be open to innovations that could enhance education and uplift the quality of life for children everywhere.
"After experiencing technology first hand, my students are now more excited to go to school every day," the educator said.
Quality content
Each School-in-a-Bag comes with a teacher's laptop and tablet, LED TV, solar panel and battery, Smart pocket Wi-Fi, and student tablets that are pre-loaded with literacy applications, multimedia resources, and disaster preparedness videos. More than just receiving gadgets though, Bao specifies that the donations are useful because of the Learn Smart educational content that is pre-installed in each student tablet.
"Learning has become enjoyable for them, thanks to these apps," she said. The five literacy apps developed by Smart in partnership with the Department of Education (DepEd) and local stakeholders, colleges and universities include the Bahay Kubo Filipino app, Kaalam Cebuano app, Taallam and Tahderiyyah Arabic apps, and Matigsalug app for the Matigsalug tribe of Davao and Bukidnon. More apps are set to be launched in 2019.
Enhanced teaching
HasminMacud, a teacher of Alternative Learning System (ALS) in Marawi City, is grateful at how the Learn Smart apps have helped enhance her teaching.
The educator attests to how the Tahderriyah and T'allam apps guide her in the more accurate pronunciation of certain Arabic words. "Not all of us are articulate enough with extensive knowledge of the Arabic language," she admitted.
"These well-developed apps ensure that our students learn Arabic words and sayings precisely, and more than what us teachers can share to them during class hours," Macud explained.
Innovative learning
School-in-a-Bag recipients are also trained on the CVIF-Dynamic Learning Program (CVIF-DLP) teaching methodology. First implemented in the Central Visayan Institute Foundation (CVIF) in Jagna, Bohol, the disaster-resilient form of education promotes independent learning. Students work on activity sheets 80% of the time, while teachers conduct lectures for the remaining 20%.
CVIF-DLP has reportedly boosted the academic performance of students in more than 100 public and private schools nationwide. Schools that have adopted the methodology record enhanced academic performance, especially in STEM (science, technology, engineering, and mathematics) disciplines.
Teachers such as Faith Bernardio from Kalumenga Elementary School in Maguindanao, said the teaching methodology allows educators to focus more on the quality – rather than quantity – of their teaching. "DLP makes work easier for teachers, as students practice independence and critical thinking," she stated.
No learner left behind
Since 2016, Smart and its partners have donated a 109 School-in-a-Bag units to various learning institutions nationwide, 83 of which were turned over in 2018 alone. To date, the Program has benefitted over thirty thousand students and over a thousand teachers in communities all over the country.
The School-in-a-Bag kits provided to schools in the Bangsamoro region were donated by Smart and the Philippine Disaster Resilience Foundation (PDRF) with the support of the Philippines Business for Social Progress (PBSP), Synergeia Foundation, and the local government units around the province. "We hope to create more partnerships with other organizations to reach more remote schools in the Philippines," said Stephanie Orlino, Senior Manager for Education, Smart Public Affairs.
Smart emphasized how strong partnerships with community stakeholders are essential in developing Learn Smart programs. "From partnerships with government and non-government offices, local government units, companies, academe, advocacy groups, and media, we all need to work together to help build a nation where no learner is left behind," said Darwin F. Flores, Community Partnerships head, Smart Public Affairs.
Interested parties who wish to learn more about Smart's educational programs can visit the Smart Communities Facebook page at www.facebook.com/SmartCommunities or email learnsmart@smart.com.ph.