APPS | Smart app for fast, efficient water infrastructure service launched in PH
Grundfos Philippines has launched its SmArt Serv mobile app, an innovative way to help address critical pumping infrastructure in the country.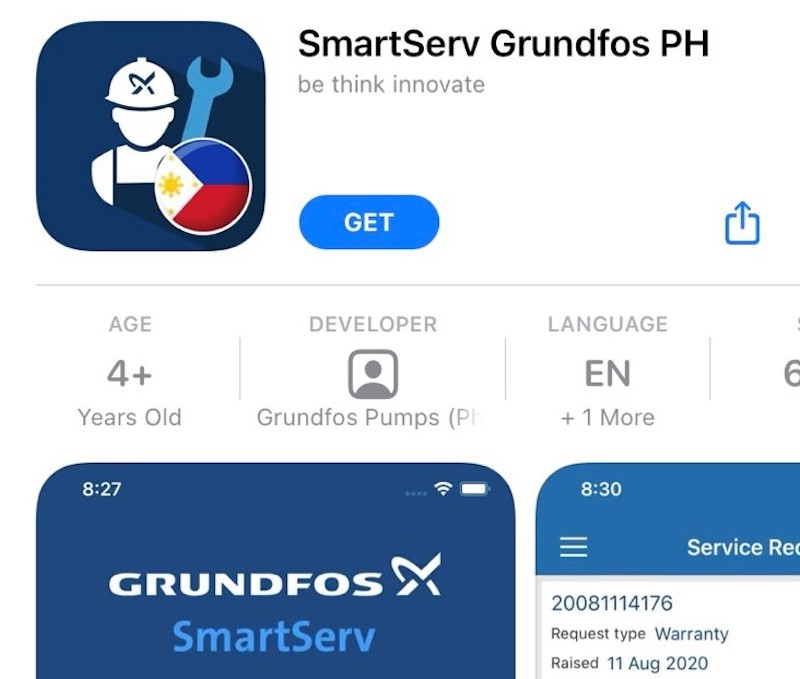 Basic necessities and services must be within everyone's reach, that is why the Philippines continues to push for digital transformation amid the pandemic. The digital shift is also encouraged for companies to stay resilient, innovative and to respond better to the needs of their customers. As water and sanitation services are crucial in the Philippines, the public and private sectors must leverage intelligent digital technologies that could provide sustainable water supply and improved sanitation for all.
Aligned with the Philippines' renewed focus on digitalization, Grundfos Philippines, a global leader in advanced pump solutions and water technologies, has launched its SmArt Serv mobile app, an innovative way to help address critical pumping infrastructure in the country. SmArt Serv is a cloud-based mobile service app that conveniently enables customers to get prompt and efficient service support for any Grundfos product, reducing the overall service process and minimizing the downtime on any pump or system.
"This pandemic has drastically changed how governments and businesses are operating, and one of the sought-after strategies is to digitalize operations of critical infrastructure," said Nicolai Thrane, Regional Service Director, Grundfos Asia Pacific Region. "As the Philippines rapidly adopts digital transformation, consumers too are adopting technology to help improve the way their infrastructure is operated. The SmArt Serv app is the result of listening to our customers and through this app we would provide next-generation user experience, which is personalized, interconnected, fast and seamless,"
The SmArt Serv app would provide another option of getting service support besides the traditional phone and email queries. Through the app, the customer could contact Grundfos or locate the nearest service provider, fill in the details of the complaint or request, attach a picture of the pump or system and raise a service request.
The app also allows easy tracking of request or complaint status or escalate late response to another service partner, if necessary. The service provider would provide remote assistance for digital pumps, while a service engineer would be deployed on site to fix the problems for other pumps. To continuously improve the user-experience, the app also allows customers to provide feedback, leave ratings, and even get a service report and quotation for spare parts; making it a comprehensive and must-have tool.
"We take pride in building pumps and systems of outstanding quality and we want to complement this with truly-responsive customer service," said Nicolai Thrane. "Customer satisfaction is important to us at Grundfos and we hope to deliver better services, achieve higher service performance and provide additional support to our customers through this app."
Smart Serv is available and free to download on iOS, Android and could also be installed on Windows and desktop computers.