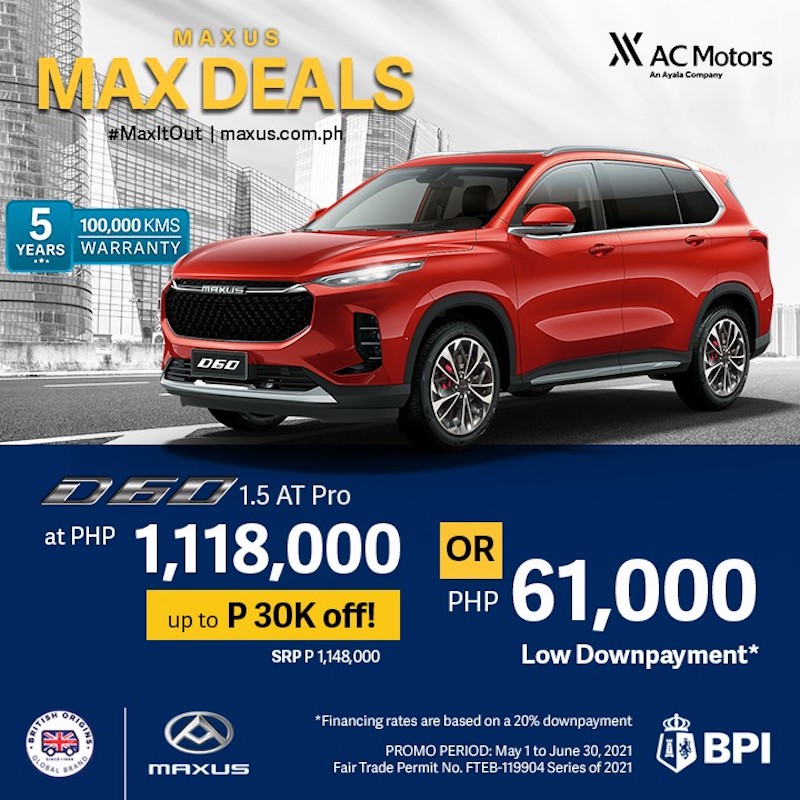 Maxus Philippines welcomes a cool new season by offering flexible financing with low monthly and low down payment schemes on its models, making owning a British-bred vehicle more accessible to more Filipino motorists.
In partnership with Bank of the Philippine Islands (BPI), Maxus Philippines enables customers to enjoy ease of payments through the following discounted prices and special promos good until June 30, 2021:
The Maxus V80 2.5 MT Flex van gets up to P150,000 off its P1,190,000 SRP, or low monthly payments of P18,913, for a promo price starting at just P1,040,000;
The G10 1.9 AT Elite van gets discounts of up to P80,000 from its regular P1,790,000 price, or a low down payment of P57,000, for a promo starting price of just P1,710,000;
The T60 2.8 MT Pro 4×2 pick-up gets discounted up to P50,000 from its P998,000 regular price, or a low down payment scheme of P30,000, for a promo price starting at only P948,000 (exempted from safeguard duty);
The G50 1.5 AT Elite MPV gets discounted at P20,000 off its P1,168,000 SRP, or a low down payment of P73,000, for a promo price starting at just P1,148,000;
Maxus' latest model release, the D60 1.5 AT Pro compact SUV, gets up to P30,000 off its P1,148,000 SRP, or P61,000 low down payment, for a promo starting price of only P1,118,000.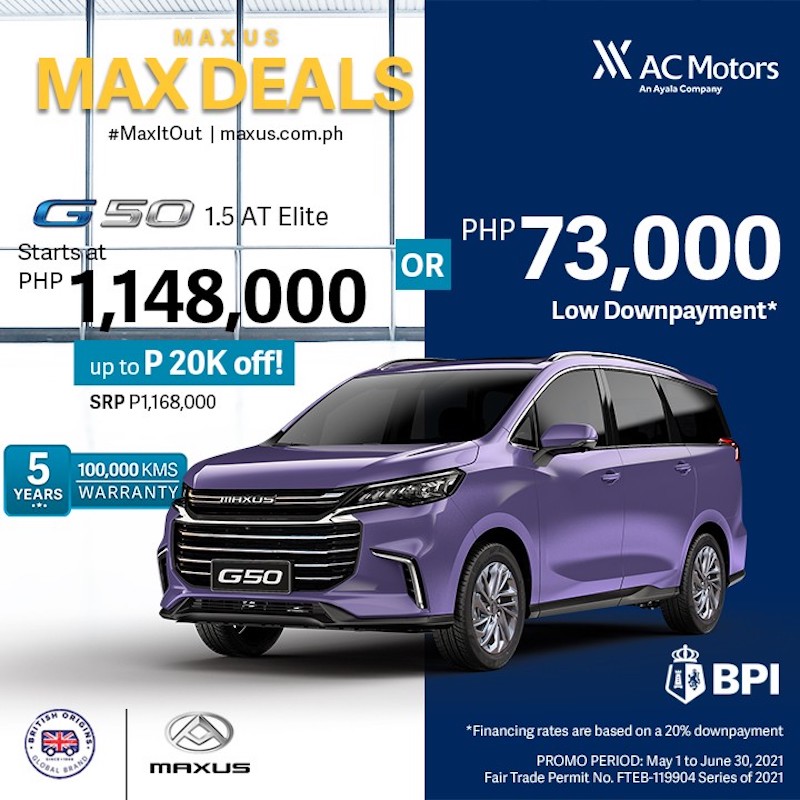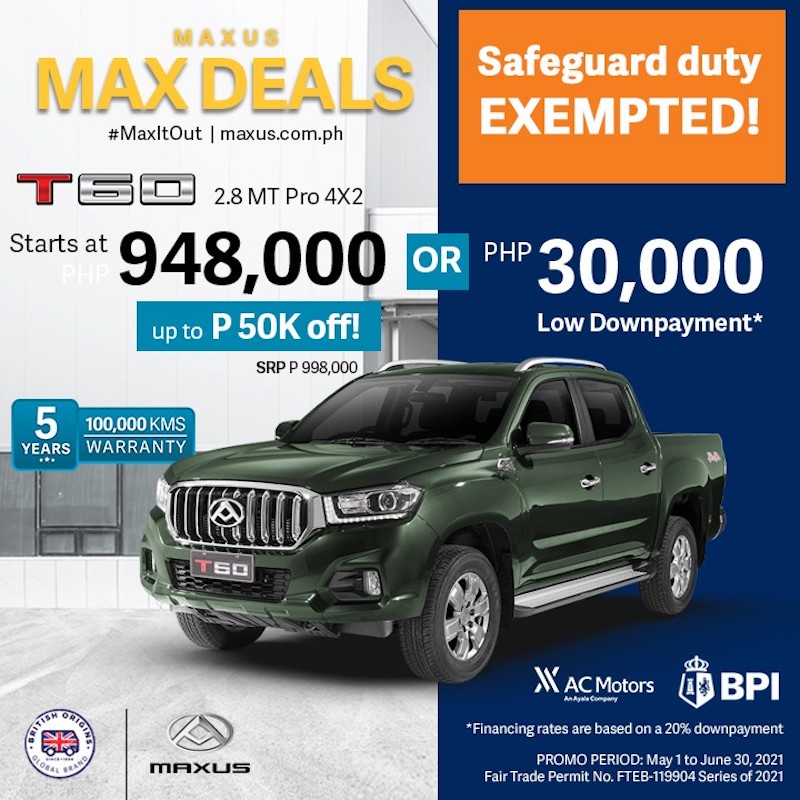 With these tempting offers and discounts, Maxus Philippines shows that it values affordability and ease of ownership, making it possible for more Filipino motorists to own efficient and reliable Maxus vehicles that can cater to their home and business needs.
Adding to customers' comfort and convenience is Maxus Philippines' assurance of quality aftersales products and services, offering its 100,000 kms or 5-year warranty for the D60, G50, and T60, a 3-year warranty for the V80 and G10, along with free Emergency Roadside Assistance (ERA) during warranty, Parts Management System with stocks availability for up to 5 months, Enhanced Service Quality for onsite and virtual product support and home service or pick-up and delivery, and low cost of maintenance that make every Maxus vehicle on the average 22% more affordable over 5 years versus other brands. All these fulfill the Maxus promise of taking care of its customers throughout their motoring journeys by providing cost-efficient and quality aftersales products and services.
With 125 years of British heritage, expertise, and excellence brought to global scale and acceptance by one of the world's top 10 automakers SAIC Motor, and brought into the Philippine market by AC Motors, the automotive distribution and retail group of Ayala subsidiary AC Industrials, every Maxus vehicle assures its owners reliable and long-lasting durability.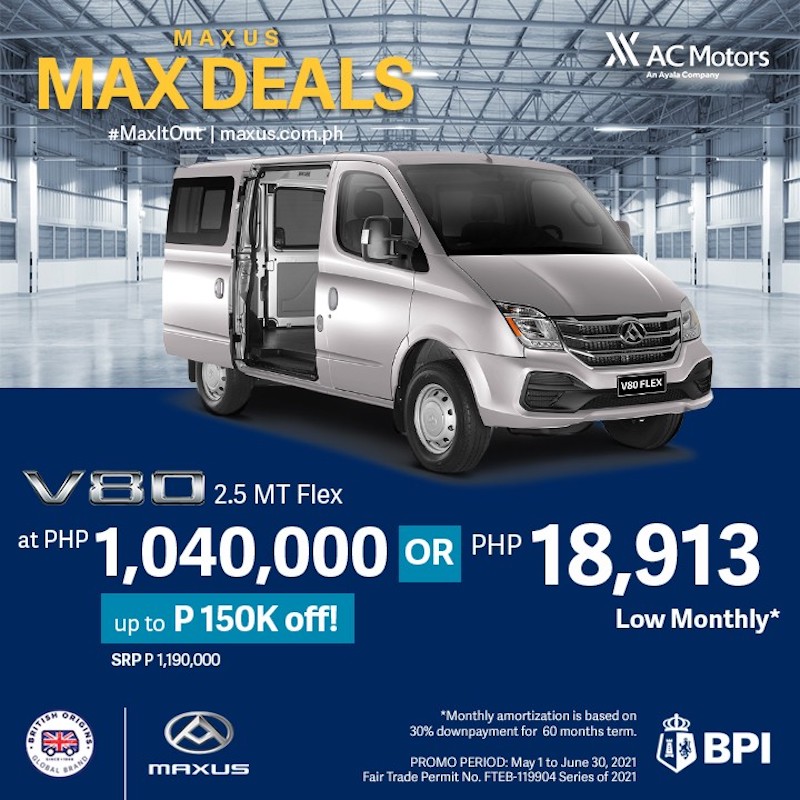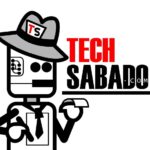 by TechSabado.com editors