GADGETS | Budget-friendly narzo 50i Prime outperforms competitors
narzo Flagship Store Ranks #1 in on Lazada Payday Sale last Sep 30.
narzo, the new game changer, once again proves its affinity with the local market by being the Rank #1 smartphone brand on Lazada during the Payday Sale last September 30. The narzo Flagship Store's success is primarily due to the narzo 50i Prime's limited time offer, where it was made exclusively available on the platform for only P 3,799.
During the one-day Lazada Payday Sale, the narzo 50i Prime sold 2 units per minute on average, with over 700 units purchased immediately right after the clock struck 12 midnight. This sales performance has allowed the model to outperform its competitors in the entry-level budget segment, specifically in the sub-4k bracket.
Additionally, the heightened public interest in the narzo 50i Prime also translated to in-store sales, wherein narzo stores and kiosks nationwide showed a threefold spike in offline retail for the model since its debut.
"We are both glad and proud that even more Filipinos have decided to try out the quality sulit narzo 50i Prime during our limited time offer," said Elaine Dela Cruz, new marketing representative for narzo Philippines. "This very affordable model has everything that the average Filipino user will need for an all-rounder budget device, from performance to display, down to battery, overall user experience, and memory expandability."
WATCH: TECHSABADO and 'TODAY IS TUESDAY' LIVESTREAM on YOUTUBE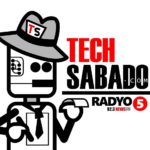 by TechSabado.com editors