MOBILITY | Promo: Check out Toyota's Halloween special
Magical deals and discounts await Toyota customers this October.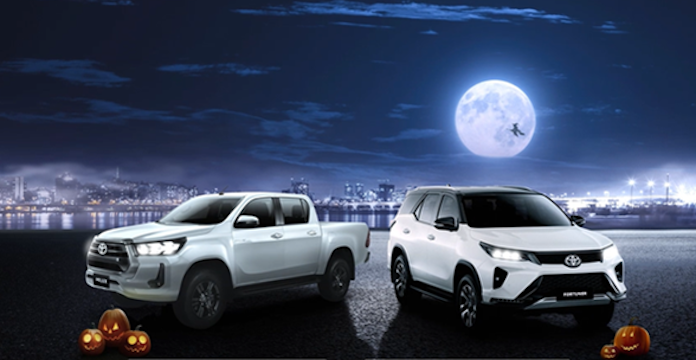 Toyota Motor Philippines (TMP) is welcoming this spooky season fearlessly with big deals and offers. Low monthly plans, trade-in rebates, and more deals are in store for you with TMP's special Halloween deals available on all Toyota dealerships nationwide, until October 31, 2023.
Bewitching deals
Be enchanted with massive savings—as big as P140,000.00 for Fortuner 4×4 LTD A/T 2T; PHP 120,000.00 for Hilux 4×2 E M/T; PHP 45,000.00 for Vios XLE CVT; and P30,000.00 for Innova V A/T, G A/T and G M/T.
Get more bewitching deals with Toyota's flexible payment options. You can enjoy as low as 15% all-in cash out downpayment, with free 1st year insurance and 3-year LTO registration for any purchase of Vios 1.3 XE CVT, Wigo 1.0 G CVT or Corolla Altis 1.6 V CVT, Innova 2.8 E Dsl M/T, Fortuner 4×2 G M/T, or Hilux 4×2 E M/T with the Pay Low deal.
Meanwhile, with the Pay Light deal, you can enjoy low monthly payments when you purchase Vios 1.3 Base MT, Raize 1.2 E M/T, Yaris Cross 1.5 G CVT, Innova 2.8 J Dsl M/T, Fortuner 4×4 G M/T, and Hilux 4×2 E M/T.
Free PMS
Spooky season or not, make sure your trips are safe and horror-free. Ensure the safety of your drive with regular checkup and maintenance of your vehicle. Grab Toyota's free Periodic Maintenance Service (PMS) offer of 5 PMS or up to the 20,000KM checkup. This offer is available when you purchase Vios G, E and XLE; Innova V, G, E and Touring Sport; Hilux Conquest, G and E; Avanza E variants; and all variants of Corolla Altis, Raize, Veloz, Rush, and Fortuner.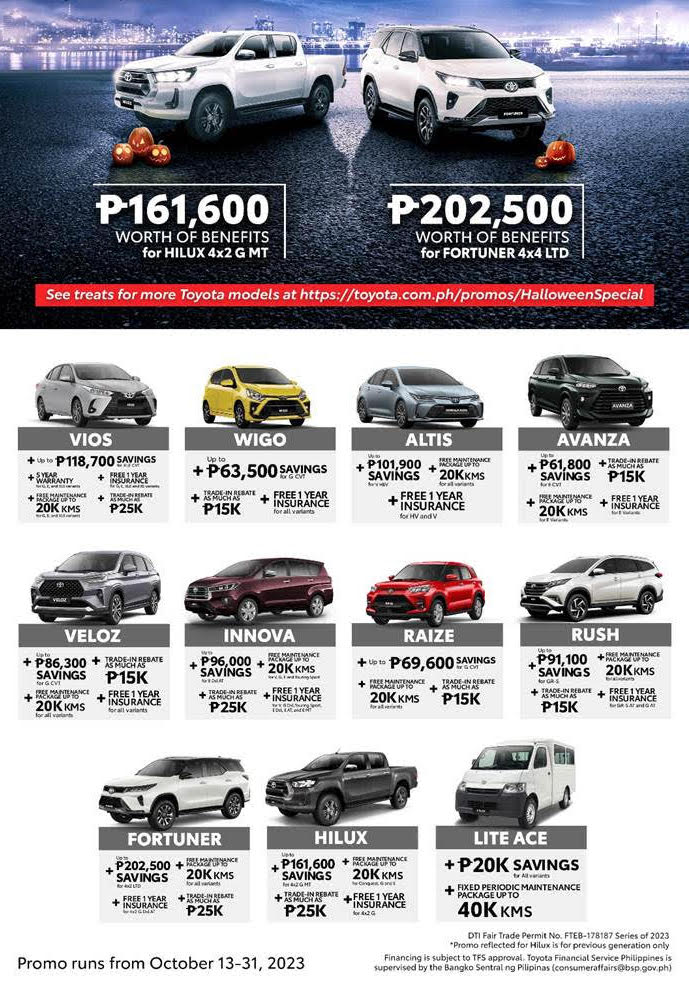 Lite Ace also joins these fearless offers with the Fixed Periodic Maintenance Package. You can get 9 Fixed Periodic Maintenance Service or up to 40,000KM, with a minimum payment of PHP 1,999.00 per service, when you purchase any Lite Ace variant.
WATCH: TECHSABADO and 'TODAY IS TUESDAY' LIVESTREAM on YOUTUBE
WATCH OUR OTHER YOUTUBE CHANNELS:
PLEASE LIKE our FACEBOOK PAGE and SUBSCRIBE to OUR YOUTUBE CHANNEL.
autoceremony >> experimental sound, synths, retro tech, shortwave

RACKET MUSIC GROUP >> alternative manila

GiZMO MiZMO >> toys and collectibles

PLEASE LIKE our FACEBOOK PAGE and SUBSCRIBE to OUR YOUTUBE CHANNEL.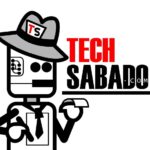 by TechSabado.com editors