ICT UPDATE | The importance of holistic strategy in business resiliency planning
Despite advances in technology, business governance and planning are still very crucial when mitigating disasters in today's highly volatile world.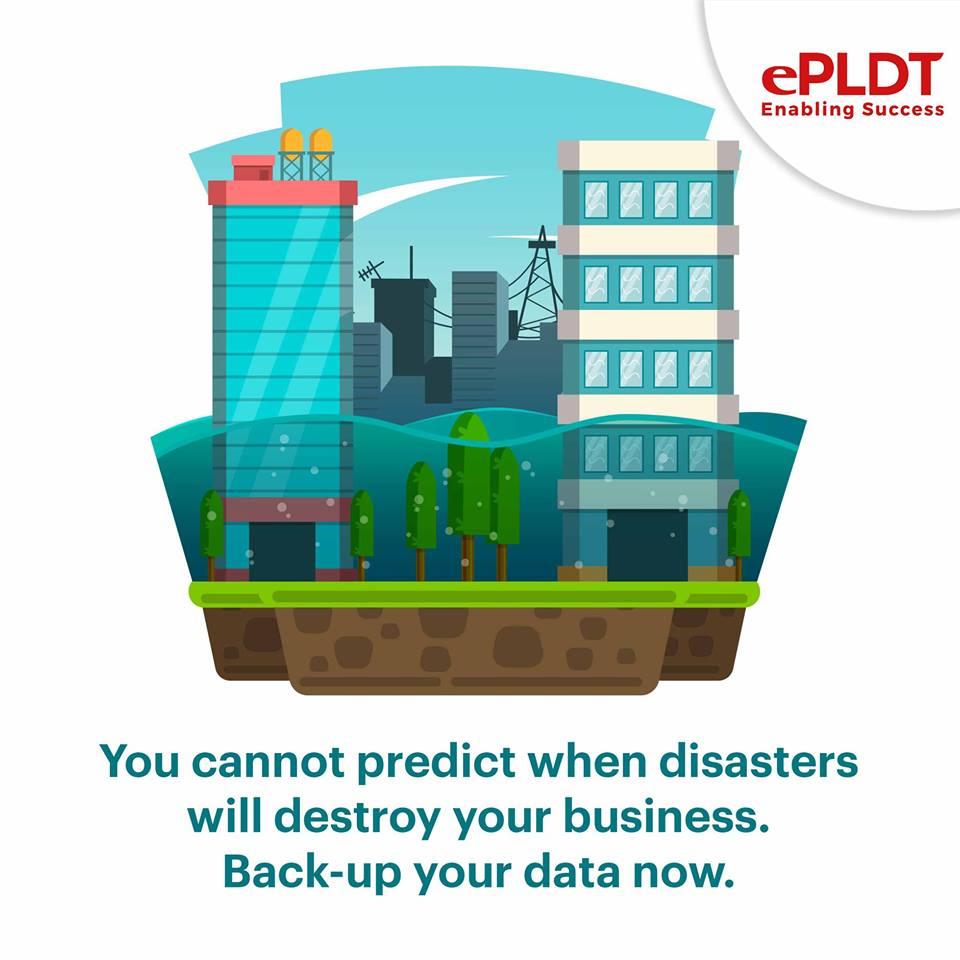 Despite advances in technology, business governance and planning are still very crucial when mitigating disasters in today's highly volatile world.
"Success in mitigating disasters involves not just the best technology and systems, but proper design and implementation of company governance, its policies, and culture," said Nico Alcoseba, vice president and head of Disruptive Business Group, ePLDT. "Technology and infrastructure have a way of accelerating things, so if this is infused into a process and governance structure that is flawed, the situation further deteriorates at an even faster rate," said Alcoseba.
Alcoseba's sentiments come in a moment where the adoption of Disaster Recovery technology is at an all-time high. As reported in a study by Research and Market , the global Disaster Recovery-as-a-Service market is expected to grow from USD 2.19 billion in 2017 to USD 12.54 billion by 2022, at a compound annual growth rate of 41.8% between 2017 and 2022.
Instilling a resilient mindset
As reliance on technology increases, organizations should consider shifting to a strategy that doesn't wait for a crisis to hit, but instead embodies an always-on, resilient approach that today's customers expect–one that continually monitors and tracks potential risks.
Alcoseba related this to living in a VUCA World during the summit. Standing for Volatility, Uncertainty, Complexity and Ambiguity, VUCA is an acronym widely used in the US military when referring to the state of the world during the Cold War. He noted that VUCA describes current business environments as companies of today are subject to volatile and rapid changes in technology, unpredictable and uncertain outcomes due to natural and man-made disasters, and increasing threats of cyber-attacks.
"In the context of business resiliency, existing in a VUCA world means being prepared and expecting the unexpected. Resiliency is about keeping your business running and thriving despite the uncertainties," said Alcoseba. "It's critical to know the risks to your data and business that take the form of disasters, floods, earthquakes, cyber-attacks, human error, theft, or systems failure – then put measures in place to mitigate them. These can be in the form of backing-up systems, placing critical infrastructure in disaster-resilient facilities, putting the right expertise and technology, and developing a playbook so that all involved parties in the organization know how to respond to what's coming."
Seek expertise
At any given moment, there are natural and man-made disasters where people and companies are affected at a large scale. Companies looking to enhance their business continuity plans face significant challenges. Alcoseba states that a good strategy is to seek help from continuity experts who can design, implement, and oversee the business continuity program.
ePLDT, for example specializes in providing disaster recovery services that provides comprehensive protection of data across all platforms. All of ePLDT services are supported by its ten state-of-the-art disaster resilient data centers that allow organizations to respond to disasters in real-time.
"The approach of engaging business resiliency experts means companies can focus on their core business," said Nerisse Ramos, group chief operating officer, ePLDT. "We co-develop their plans across data privacy, cyber security, and business continuity which are supported by our global-class infrastructure and delivered & operated by our certified personnel. This ensures that companies manage risk and business objectives are met."
In addition, ePLDT's disaster resiliency capabilities are backed by the country's leading telecommunications and digital services provider PLDT.
"In the age of VUCA, our customers require a partner they can trust to ensure business uptime, said Jovy Hernandez, senior vice president & head of PLDT and Smart Enterprise Groups. "Apart from the robust domestic and international network that we maintain and operate according to global best-practices, our data center services are governed by service level agreements (SLAs) that encompass all the environmental and infrastructure elements to include state-of-the-art building systems and designs, which are all globally-certified. Together, PLDT Enterprise and ePLDT guarantee business resiliency and utmost protection against devastating disasters."