TECH NEWS | AWS Hackdays 2018 PH champion to compete in Jakarta
Team Makati Boyz wins with their intelligent Customer Relations application aims to help the local e-commerce sector improve customer experience through inclusive in-store technology.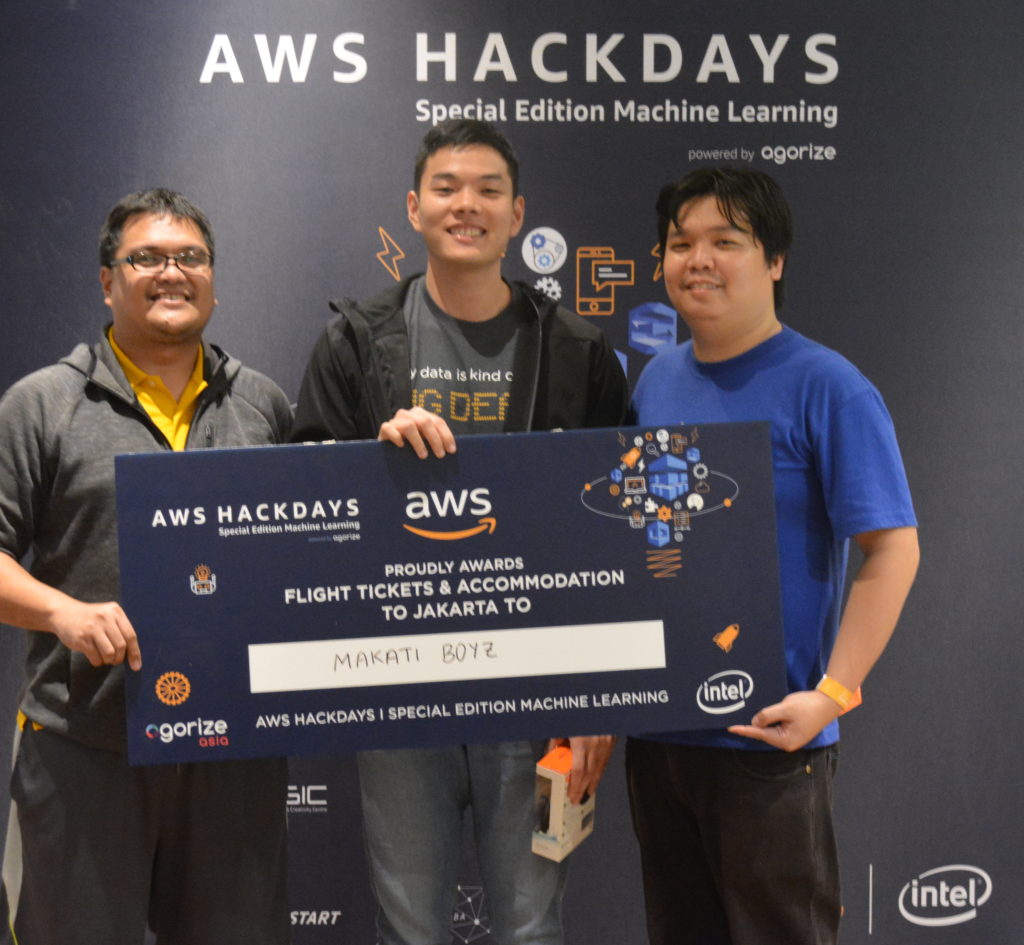 MANILA, PHILIPPINES–July 19, 2018–Amazon Web Services, Inc. (AWS), an Amazon.com company, announcedTeam Makati Boyz
as the winner of country level AWS Hackdays 2018 in the Philippines, with its intelligent customer relations application, which intends to leverage image and video recognition to improve business insights for customer retention. The team will receive an all-expense paid trip to Jakarta, Indonesia, where they will represent the Philippines in the hackathon's grand finale on 19-20 September 2018.
AWS Hackdays is an annual education and hackathon event held across six countries in Southeast Asia, which saw competing teams build artificial intelligence (AI) and machine learning (ML) based solutions around the themes of transportation; media and entertainment; e-commerce; and fintech. The Philippine leg of the competition saw a total of 18 teams comprising 61participants, who used AWS services including Amazon SageMaker, Amazon Polly, Amazon Rekognition, and Amazon Lex, to build their solutions within 12 hours. These solutions were then evaluated by a judging panel based on their innovation, business impact, implementation, and user experience.
A total of 18 teams and 61 participants joined AWS Hackdays 2018' Philippine leg to develop solutions using AWS technology
"We would like to congratulate Team Makati Boyz on their well-deserved win with the impressive solution they built in under 12 hours using Amazon Artificial Intelligence and Amazon Machine Learning services. Through the AWS Hackdays, we look to educate developers across the region on the opportunities to build innovative solutions with AI and ML. By harnessing AWS technologies, especially Amazon SageMaker to build, train, and deploy ML models; Amazon Polly to build speech-enabled applications; and Amazon Lex to build chatbots, these solutions can help contribute to ongoing advancement of Southeast Asia in the region, and inspire the next generation of talented developers," said Nick Walton, Managing Director for ASEAN, AWS.
"When considering our project, we first had to identifythe topissues and trends facing the E-commerce sector in the Philippines. We realized that while virtual stores are growing in popularity, in-store locations still provide valuable insights to customer experience. The idea banks on using the stores' CCTV cameras thatcapture images and moods of walk-ins to enhance data on customer behavior through improved demographic and psychographic matching. With AWS technologies, such as the Amazon Rekognition, we were able to build our solutionby adding image and video analysis to our application. We expect to develop it even further after this competition," said Raphael Quisumbingof Team Makati Boyz.
At the AWS Hackdays 2018 grand finale in Jakarta, Indonesia, Team MakatiBoyz will compete with the winners from Singapore, Vietnam, Malaysia, Indonesia, and Thailand for the coveted grand prize – an all-expense paidtripto attend the world's top cloud conference – AWS re:Invent 2018 in Las Vegas, USA on 26-30 November 2018.