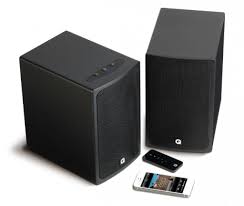 Q Acoustics BT3 Active Powered Bluetooth Speakers:Award-winning BT3 speakers than can easily connect with Bluetooth. Simply connect a source, whether it's Bluetooth, analogue, optical or digital, press play and sit back and enjoy your music in stunning stereo detail.
THE GADGET REVIEW
The Q Acoustics BT3 is a solid alternative for a multimedia setup, which could placed either in your living room, as part of a home theater system, or simply a speaker of choice for your desktop PC.
The package comes with a pair of powered bookshelf speakers that will give a wider stereo soundstage compared to your average sound bar.
Aesthetics and hardware
The model that we have is the Jet Black version but there are other colors available as well, such as the Juice Red and Urban White. These color options will allow you to keep your multimedia setup in a consistent theme. The unit has a solid MDF cabinet with a mesh plastic grille placed at the front. We couldn't find a way to remove the front grille so if you're someone who like the look of your speakers with its drivers exposed, this is something that you should keep in mind.
The right speaker is heavier than the left because it contains all of the electronics, including the 2×50-watt amplifier inside. It also has the control buttons such as the power and volume. It houses the connections as well, which include RCA stereo, digital optical input, and a stereo 3.5mm aux jack. There is also a subwoofer output if you need more bass.
Though the speakers could be a little bit big for some people, the size is just right for us as the speakers come in 240mm x 148mm x 226mm (HxWxD), which is just right for this form factor.
Bluetooth functionality
A really neat feature of this speaker is its built-in Bluetooth functionality. So, aside from being hooked up to your theatre system or desktop PC, it has the convenience of being able to wirelessly connect to your phone or portable music player that supports Bluetooth. The only downside of this is that you can get interrupted when you are listening directly from the line input when your bluetooth device powers up or receives a notification as it prompts the speaker to switch to Bluetooth mode. It can get annoying and we hope there could be a fix for this.
Audio quality
Given that it has two separate speakers, which allows you to have a much wider stereo separation, you can get a more defined soundstage compared to a typical soundbar. It's a little bit basic compared to multi-channel systems but this setup is not an overkill and gives a satisfying listening experience.
While watching movies or listening to music, it was able to deliver clear and precise audio, while the bass frequencies can go low enough to bring a satisfying thump when needed. There is always an option to add a subwoofer later on which is convenient for a set of HiFi speakers.
Conclusion
The Q Acoustic BT3 is a flexible two-channel speaker system that has a variety of connectivity options such as wireless Bluetooth functionality, and both analog and digital optical inputs. The sound amplification is satisfactory and you can go loud while maintaining clarity, plus the added bass would please most listeners.
The option to add a subwoofer later on through it's subwoofer output is something that you won't find in similar products in this category so that's definitely a plus. Finally, the design of the product itself can make your home theatre or desktop PC setup look good with color options that would definitely complement your listening environment.
If you are looking for something stylish and has a lot of flexibility in your sound setup, the Q Acoustic BT3 would be a great choice for the features that it provides.