BUSINESS TECH | Matigsalugs embrace digital way of learning, keep traditions alive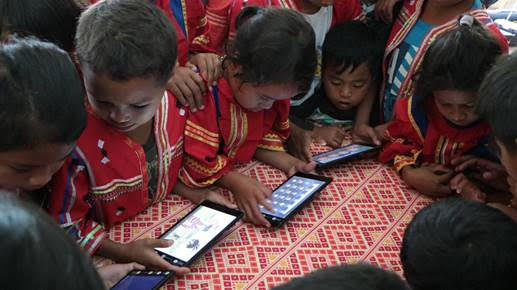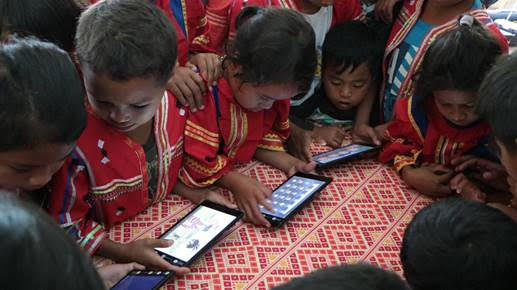 Members of Davao City's Matigsalug tribe now have a smart and innovative way of preserving their culture and enhancing their next generation's literacy—the Matigsalug app.
A first of its kind in the Philippines, the recently launched mobile application that promotes basic literacy in the Matigsalug language is a project of PLDT wireless unit Smart Communications.
The mobile app has interactive features that teach users to read, write and recite the tribal alphabet. It also teaches word association and how to count in Matigsalug. Moreover, it lets users sing along to Matigsalug songs for children.
It also features tribal dances and chants. The app is now available for free download on Android devices.
Datu Robert Siawan of the Matigsalug tribe in Sitio Contract expressed gratitude to the people behind the project as it helps in addressing their problem of keeping their culture and traditions alive.
"We are more than thankful that we are chosen as the tribe beneficiary of this project. It is also a way of enhancing learning and promoting our tribe's culture to the rest of the world," he said in vernacular during the app's launching at Datu Salumay, Marilog District, Davao City.
Traditionally, elders write down their history and traditions in a logbook, and then let their young tribe members read it. Siawan shared that the app is an effective way of capturing today's generation's attention to learning, as the traditional way is becoming less appealing to the youth.
"There is really a need to put extra effort in promoting our culture so that it can be passed on to the next generation. This app can be very helpful to our tribe members, especially to the youth, to appreciate their heritage. People who want to learn our culture can also use this app," Siawan added.
To provide access to the newly launched app, Smart also donated tablets for use of the community.
Among the Matigsalugs who tested the app is Peter A. Gulam, a grade six pupil at the Pamulaan Center for Indigenous People's (IP) Education.
Peter sees the app as a more fun yet informative way of learning.
"Nalingaw ko sa app, daghan koy matun-an didto, naenjoy nako ang mga videos labi na tong gapakita sa among tribu (The app is fun. I can learn a lot from it. I enjoyed most those videos featuring our tribe)," the young Matigsalug shared.
"Importante na mismo makabalo ta sa atongkultura og mugamit ta sa atong pinulungan, para bisan asa ka maabot dili nimo malimtan imong gigikanan, dapat imong ipasigarbo bisan asa ka muadto (As a Matigsalug, it is important that we understand our culture and we speak our language. By knowing and practicing your own culture, you can always remember your roots and be proud of it, no matter where fate will take you)," he added.
Studies show that children learn better when they are taught using their mother tongue, and when they are given access to digital learning tools and content. It is for this reason that Smart has partnered with local communities, government units, schools, advocacy and developers to create literacy apps that aid in the improvement of literacy and interest in learning.
For the Matigsalug app, Smart partnered with members of the Matigsalug tribe in Sitio Contract in Davao City, as well as with the Pamulaan Center for IP Education for the provision of content. ACLC College of General Santos City and Davao City and Skeptron Business Solutions helped with the animation and digitization of content.
"Finally, after over a year we already launched this project. It really takes a community to raise a child and we want to express our gratitude to all our partners for making this possible. After this, we will be launching similar apps for the B'laan, Tagakaolo, and T'boli tribes," said Smart public affairs head for community partnerships Darwin Flores.
ACLC Gensan and Davao president Maya Cartojano, for her part, said they are fully committed to expand the reach of the project. Apart from helping the beneficiaries, she said, it also helps boost the animation industry in the country.
Smart has already launched literacy apps in Cebuano and Arabic, and is currently working on a similar app for Ilokano, Kapampangan, Waray, Chavacano, and the B'laan, T'boli, and Tagakaulo IP languages.